COVID-19 UPDATE:
Due to the Government's policy and for the health and safety of all, The Marigold is temporarily closed, however we have set up a remote office and are still dealing with all enquiries. We have updated our operating times (Monday to Saturday: 11:30am - 4pm) and are contactable via phone on 0121 686 6666, or email on info@themarigold.co.uk. You can also find more information about the venue on our website and use the contact form to get in touch with us by clicking here.
PREMIER WEDDING VENUE
Welcome to The Marigold
The Marigold is an elegant wedding venue situated in the heart of
Birmingham that can accommodate up to 750 guests across two suites.
An additional hall is available for smaller functions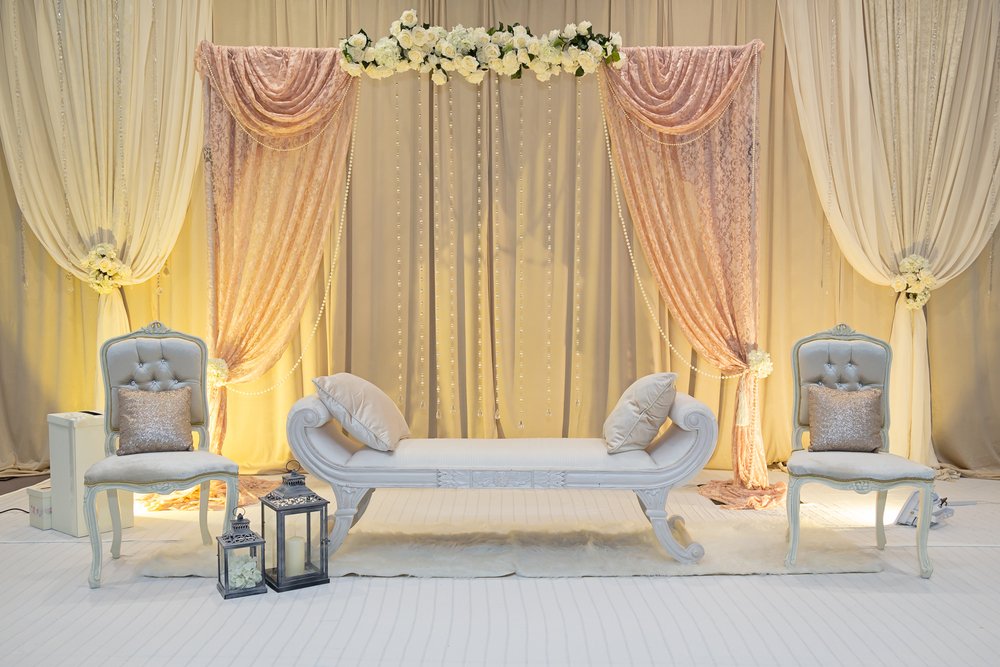 Turning Moments
into Memories
We at The Marigold know that weddings are special events which often come once in a lifetime. It is our job to ensure that we plan to the best of our ability so that you achieve what you had hoped and dreamed of on that special day.
A Truly Memorable
Experience
From organising, planning the event and providing a considered personalised service; we go the extra mile to keep our clients and their guests relaxed, happy and leaving with a smile. We hope you will find what you were looking for at our venue.
Testimonials
Just some of the great feedback we have received from our happy clients
"We found the staff really helpful and friendly, the venue is absolutely beautiful. The Marigold oozes style. We had such a relaxing time and will recommend this venue to all our friends. We will return for sure!"
Arif Mohammed
"Thank you so much for everything. May Allah reward you abundantly in this life and the next. Ameen".
Razna & Rahah
"To all the staff at The Marigold, thank you all so much for such an amazing service, and for all your help. Everyone was complimenting the service because of your professionalism on the day, it was perfect. Thank you again".
The bride's family. Wedding of Anisha & Kibria
"Just wanted to say thank you to all the team at The Marigold. The wedding was superb; the guests were so impressed and complimented the staff at The Marigold. A job well done".
Mesbah, groom's sister
"Thank you so much Wajed, it was a fabulous night and The Marigold staff were excellent".
Sanah Rehman
"Hi Kiran, I have to say you co-ordinated the whole day perfectly. Everything went so smoothly and there were no confusions or complaints at all. All our guests gave us positive feedback about the beautiful venue and the service they received. Honestly you made everything go so well, the planning and organisation. I really appreciate it and I will definitely recommend it to anyone who is thinking of getting married".
Hamid & Muslufa
"Thank you ever so much Kiran & the rest of The Marigold team for your service. Everything went smoothly and on time. The day went sooooooo quick! Everyone was complimenting the venue and the facilities that were available around the venue. Service was good too, so overall the day went really well :)".
Ruhena Begum & Family
"We just want to also say a huge thank you to Kiran for all her help with all the preparations and assistance for our big day. We're really grateful & I'm so glad we booked The Marigold as our venue".
Thamina & Shuel
"Perfect venue for anyone's special day..the staff are absolutely brilliant. Henna went out of her way to make the day as superb as possible. Everything was organised on time minute by minute. Guests were treated with respect and welcomed with a smile. Henna ran around all day making sure everyone enjoyed the experience. I highly recommend this venue as you will have excellent service"
Saghir Karim